Star Wars
En relisant un commentaire de Film Crit Hulk concernant l'épisode 7 de la série Star Wars (Force Awakeness) (Film Crit Hulk Smash: « STAR WARS: THE FORCE ALLUDED TO… », birthmoviesdeath.com, June 28, 2016), nous avons souligné de nombreux passage, mais nous avons retenu les deux suivants :
« HULK FEELS LIKE HULK NEEDS TO SHOUT FROM THE ROOFTOPS. THERE IS PLENTY OF « DANGER » IN THE MOVIE, BUT THERE ISN'T ANY DRAMA OR DOUBT OR ACTUAL CONFLICT BEING PLAYED. AND HE CONSTANTLY FINDS HIMSELF IN SITUATION WHERE CHARACTERS HAVE TO WASTE TIME EXPLAINING WHAT JUST HAPPENED. BUT J.J. OBVIOUSLY REALIZES THIS INFORMATION SUCKS TO DELIVER SO HE TRIES TO ZAP THROUGH EVERYTHING WITH PERSONALITY AND PIZZAZ BEFORE DISTRACTING US WITH A NEW SHINY ELEMENT OF « DANGER, » WHICH DOESN'T ESCALATE, BUT JUST CREATES THE LAW OF DIMINISHING RETURNS. AND IT SEEMS LIKE J.J. IS EVEN AWARE THAT THIS DOESN'T « WORK » SO HE'S TRYING TO STREAMLINE AND MOVE AND FIX AS QUICK AS POSSIBLE.
[…]
WAS EXPOSITION SIMPLY NOT « DELIGHTFUL » ENOUGH? DOES EXPOSITION STOP THEM FROM RUSHING THROUGH EVERY SCENE TO GET TO THE DESIRED EFFECT? HULK SORRY, BUT EFFECTIVE EXPOSITION IS ACTUALLY REALLY IMPORTANT TO MOVIES (EVERYONE MAKES FUN OF INCEPTION, BUT THE FIRST HALF OF THAT MOVIE IS WHAT ALLOWS THE SECOND HALF TO WORK WITHOUT STOPPING TO EXPLAIN ANYTHING). SO IT'S TIME TO TALK ABOUT ONE OF THE MOST IMPORTANT SCENES IN THE ORIGINAL STAR WARS.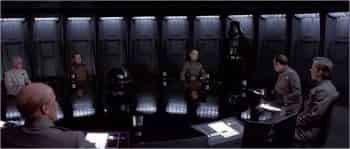 THAT WOULD BE THE CONFERENCE ROOM SCENE. YOU KNOW THE ONE:
THIS SCENE, LIKE MANY OTHER GREAT EXPOSITION SCENES, WORKS BY UNDERSTANDING THAT, YES, EXPOSITION IS BORING IN AND OF ITSELF. BUT THAT'S WHY YOU BEND OVER BACKWARDS TO FIND WAYS TO MAKE IT INTERESTING/FULL OF CONFLICT. LIKE THE FAMOUS SNAKE PLISSKEN NEGOTIATION, THERE'S STAKES AND AN ART OF GROUNDING IT IN REAL CHUTZPAH. AND IN THIS FAMOUS SCENE, THERE'S THAT AWESOME FRAMING CHOICE WITH TWO PEOPLE ARGUING SO IT FEELS LIKE JUST AN INTENSE CONVERSATION BETWEEN THEM. THEN THE SWEEPING WAY GRAND MOFF TARKIN COMES INTO THE ROOM. AND THEN OF COURSE, THERE'S THE WAY VADER TAKES CHARGE OF THE SITUATION (WITH A GUY WHO FEARLESSLY TAKES HIM ON BY THE WAY, AN IMPORTANT HUMANIZING FEATURE FOR VADER) AND THEN ISSUES ONE OF THE MOST ICONIC LINES OF THE ENTIRE SERIES. ALL IN ALL, THE SCENE IS FLIPPING FANTASTIC. »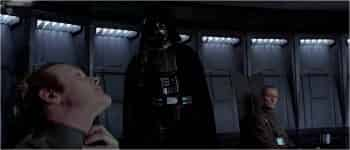 Et c'est très vrai, la scène de la salle de conférence fonctionne à merveille. Cependant, il faut faire attention de créer artificiellement ces tensions uniquement pour dynamiser une scène.
Si notre dernier billet semble critiquer la saga Star Wars, on ne peut  passer outre plusieurs de ses innovations techniques ou de ses risques narratifs. Keith Phipps (« Why Star wars?», thedissolve.com, November 14, 2014) offre un bel exemple de ces risques :
« By opening with C-3PO and R2-D2, Star Wars thrusts viewers into its world and counts on them to be engaged enough to figure out what's going on. Even if Star Wars' title hadn't been amended to add "Episode IV," it would still feel like a story already in progress, complete with talk of a Galactic Senate, a never-seen Emperor, spice-smuggling (an homage to Frank Herbert's Dune), and a past filled with Jedi. The action stops for the occasional explanation, but more goes unexplained. »
Et quand on s'y rappelle bien les personnages sont introduits progressivement sans grandes scènes d'exposition permettant de positionner chacun. On se demande si dans les conditions actuelles de la scénarisation, si une telle approche pourrait être appliquée de nos jours si l'on décidait de refaire cet épisode.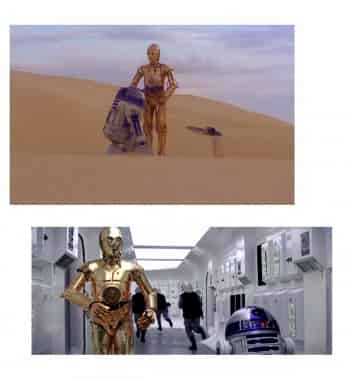 L'épisode VII de la saga Star Wars va sortir en salle dans quelques jours. Nous sommes tombés sur une analyse assez virulente du développement psychologique du personnage de Darth Vader (John Ostrander, « Redeeming Vader», www. comicmix.com, october 26, 2014). Naturellement, les épisdes I, II et III sont venus brouiller ce qui aurait pu être au final une très grande œuvre. Nous rapportons un large passage de cette analyse.  
« At the end of Episode VI, Anakin's Force Ghost takes its place with the Force Ghosts of Obi-Wan Kenobi and Yoda, the two Jedi who represent the wise mentors and forces for good.
I have serious reservations about this. I don't know if Anakin/Vader deserves or achieves redemption. Anakin, as he turns to the Dark Side, betrays all his friends. He kills children. Let me repeat that – he kills children. Episode III makes it clear even if it doesn't show it. Anakin/Vader leads a cadre of Clone Troopers into the Jedi Temple and we see him confront children, the young students, some of which look to be six to eight. They know him only as a Jedi and trust him. We are later told that some of their corpses had lightsaber marks on them and Anakin is the only one who has a lightsaber in that attack. Anakin killed the children. How is that redeemable?
Why does Anakin turn to the Dark Side? Partly because he feels his fellow Jedi aren't treating him with enough respect; as tragic flaws go, this is rather petty. Also, Darth Sidious/Emperor Palpatine, Anakin's mentor, convinced Anakin that he could prevent Anakin's wife, Padme, from dying. Ever.
Anakin had Separation Anxieties. He couldn't save his mother from death at the hands of the Tusken Raiders so, once again, he slaughtered every Tusken man, woman, and – once again – child in the tribe. But Sidious tells Anakin he can keep Padme from ever dying and the chump believes him. It's enough to send him careening down the path of the Dark side, becoming Darth Vader in the process.
And yet both Padme and, later on, Luke insist that there is good in him. Damned if I could see it.
How is Vader redeemed? When he decides he can't turn Luke to the Dark Side, he decides to turn Luke's sister. He tries to kill Luke. Instead, Luke defeats him, literally disarming him. Palpatine wanders in and tells Luke to kill Vader and take his place. Luke refuses, tossing away his lightsaber … a rather boneheaded move. Sidious then shoots lightning from his hands and starts to slowly turn Luke into a Crispy Critter. Vader, despite his son's pleas, just watches for a few moments before finally turning on Sidious and tossing the Emperor to his doom, getting mortally wounded himself along the way. And this act supposedly redeems Anakin.
What exactly did Anakin/Vader do? Did he renounce the Dark Side? No. Did he regret his betrayal of his fellow Jedi? No. Did he feel bad about slaughtering the innocent children? Nope. He turned on his former Master because Sidious was killing Anakin's son whom Vader himself had been trying to kill only a few moments earlier.
I admit to being an agnostic but I'm specifically a Roman Catholic agnostic. I was raised and steeped in the traditions of the Roman Catholic Church and the notion of redemption was a strong part of that. The concept is that suffering expiates past sin or sins. Anakin/Vader sacrifices his own life to destroy Sidious. Why does he do it? To save his own child. Motivations matter and, it seems to me, this one is private, personal, and rather selfish. I don't see the act as redemptive. »