Prendre le temps de respirer
En relisant un commentaire de Film Crit Hulk concernant l'épisode 7 de la série Star Wars (Force Awakeness) (Film Crit Hulk Smash: « STAR WARS: THE FORCE ALLUDED TO… », birthmoviesdeath.com, June 28, 2016), nous avons souligné de nombreux passage, mais nous avons retenu les deux suivants :
« HULK FEELS LIKE HULK NEEDS TO SHOUT FROM THE ROOFTOPS. THERE IS PLENTY OF « DANGER » IN THE MOVIE, BUT THERE ISN'T ANY DRAMA OR DOUBT OR ACTUAL CONFLICT BEING PLAYED. AND HE CONSTANTLY FINDS HIMSELF IN SITUATION WHERE CHARACTERS HAVE TO WASTE TIME EXPLAINING WHAT JUST HAPPENED. BUT J.J. OBVIOUSLY REALIZES THIS INFORMATION SUCKS TO DELIVER SO HE TRIES TO ZAP THROUGH EVERYTHING WITH PERSONALITY AND PIZZAZ BEFORE DISTRACTING US WITH A NEW SHINY ELEMENT OF « DANGER, » WHICH DOESN'T ESCALATE, BUT JUST CREATES THE LAW OF DIMINISHING RETURNS. AND IT SEEMS LIKE J.J. IS EVEN AWARE THAT THIS DOESN'T « WORK » SO HE'S TRYING TO STREAMLINE AND MOVE AND FIX AS QUICK AS POSSIBLE.
[…]
WAS EXPOSITION SIMPLY NOT « DELIGHTFUL » ENOUGH? DOES EXPOSITION STOP THEM FROM RUSHING THROUGH EVERY SCENE TO GET TO THE DESIRED EFFECT? HULK SORRY, BUT EFFECTIVE EXPOSITION IS ACTUALLY REALLY IMPORTANT TO MOVIES (EVERYONE MAKES FUN OF INCEPTION, BUT THE FIRST HALF OF THAT MOVIE IS WHAT ALLOWS THE SECOND HALF TO WORK WITHOUT STOPPING TO EXPLAIN ANYTHING). SO IT'S TIME TO TALK ABOUT ONE OF THE MOST IMPORTANT SCENES IN THE ORIGINAL STAR WARS.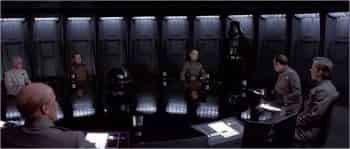 THAT WOULD BE THE CONFERENCE ROOM SCENE. YOU KNOW THE ONE:
THIS SCENE, LIKE MANY OTHER GREAT EXPOSITION SCENES, WORKS BY UNDERSTANDING THAT, YES, EXPOSITION IS BORING IN AND OF ITSELF. BUT THAT'S WHY YOU BEND OVER BACKWARDS TO FIND WAYS TO MAKE IT INTERESTING/FULL OF CONFLICT. LIKE THE FAMOUS SNAKE PLISSKEN NEGOTIATION, THERE'S STAKES AND AN ART OF GROUNDING IT IN REAL CHUTZPAH. AND IN THIS FAMOUS SCENE, THERE'S THAT AWESOME FRAMING CHOICE WITH TWO PEOPLE ARGUING SO IT FEELS LIKE JUST AN INTENSE CONVERSATION BETWEEN THEM. THEN THE SWEEPING WAY GRAND MOFF TARKIN COMES INTO THE ROOM. AND THEN OF COURSE, THERE'S THE WAY VADER TAKES CHARGE OF THE SITUATION (WITH A GUY WHO FEARLESSLY TAKES HIM ON BY THE WAY, AN IMPORTANT HUMANIZING FEATURE FOR VADER) AND THEN ISSUES ONE OF THE MOST ICONIC LINES OF THE ENTIRE SERIES. ALL IN ALL, THE SCENE IS FLIPPING FANTASTIC. »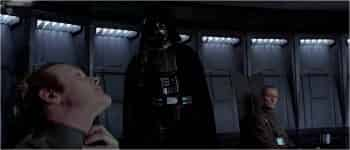 Et c'est très vrai, la scène de la salle de conférence fonctionne à merveille. Cependant, il faut faire attention de créer artificiellement ces tensions uniquement pour dynamiser une scène.