La tentation de l'enflure – Partie I
Que ce soit au niveau des films de super-héros ou de leur équivalent dans le comicbooks, il y a une tentation de souhaiter dépasser, surpasser l'aventure du chapitre précédent. Russ Burlingame offrant cette formule simple : « each new film has to be bigger and bigger… […]that the Marvel Studios films are spectacular adventures, but that they ultimately are so filled with spectacle that there isn't a ton of room for story.» (« Is Captain America: The Winter Soldier The Best Marvel Movie Yet? », http://comicbook.com, April 6, 2014). Joe Casey va dans le même sens lorsqu'il affirme que ces gros événements laissent de moins de moins de substance pour le lecteur (« containing less and less thematic resonance ») (« CR Sunday Interview: Joe Casey », http://www.comicsreporter.com, February 16, 2014). Mike Gold pointe aussi un problème de redites où les conséquences de ces événements tendent à être corrigées rapidement par les aventures suivantes : « over the past 30 years the DC fans have learned one and only one thing: we cannot trust DC to sustain a thought. ». (« What Goes Around Inevitably Comes Around », www.comicmix.com, September 10, 2014).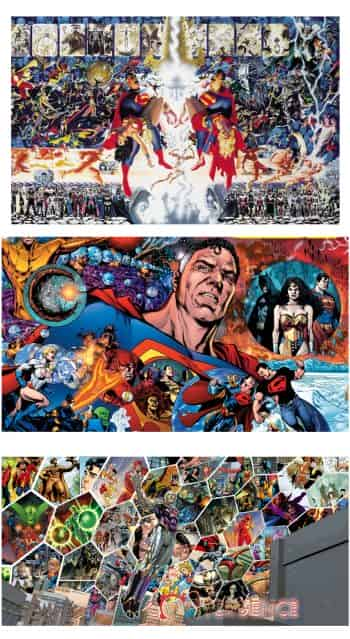 SauronsBane développe ses idées sur ce thème et il apporte quelques suggestions. « Of course, a proper sequel really should improve upon the 1st film… by raising the stakes. Unfortunately, I believe too many filmmakers get caught up in trying to raise the scale. See the difference?
On one hand, you can have an effective sequel that successfully manages to make things matter more. There's more at risk if the hero should fail. Indeed, by raising the stakes, the natural result is that drama, conflict, and tension all become heightened as well. Of course, that naturally leads to a more entertaining, emotionally resonant film that's easy to get invested in. This is basic filmmaking 101.
But on the other hand, by only raising the scale of things in a sequel, it just leads to a series of movies that steadily progress from something as superficial as city-wide threats, to nationwide threats, to planet-wide threats, and possibly even universal threats. This may seem like a legitimate way of doing things in film, but I can pretty much guarantee that there is no better way to ensure that a series of movies become as boring, repetitive, cliché, and unoriginal as possible. » (« Top 3 Worst Hollywood Trends », http://www.comicbookmovie.com, July 8, 2015).
Sur ce point, nous croyons que le dernier Captain America, Civil War, joue sur la profondeur des enjeux et non leur échelle. À la fin du film, nous nous retrouvons avec un affrontement entre super-héros, non pas pour éviter la destruction du monde, mais parce que l'un des protagonistes veut venger la mort de ses proches et non parce qu'il faut prévenir la fin du monde.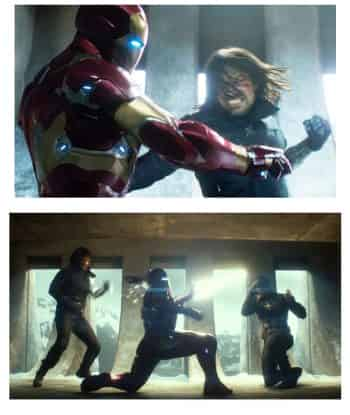 Sans vouloir faire des comparaisons boiteuses, après les affrontements survenus dans l'Arctique de notre univers les Apatrides qui avaient mis en scène de nombreux acteurs et un déploiement à une plus grande échelle, nous voulions revenir à des aventures plus restreintes et cela pour deux raisons. Poursuivre dans cette direction avec des aventures toujours plus gigantesques n'aurait pas été viable et dans la mesure où l'effet de surprise chez le lecteur disparaît et ensuite parce que de tels événements doivent être montés, on ne peut les sortir d'un chapeau instantanément.